Google Alerts: What People Are Saying About You
The internet is a big place and it is important to know what others are saying about you across its seemingly infinite number of pages. That is why Google Alerts is so powerful. You can create an alert for any search query, such as the name of your company, the names of your products, or even the names of the key people in your organization. Google will then email you when it discovers new pages that match your query.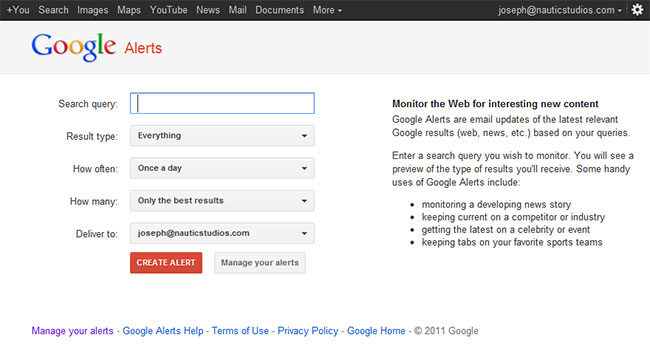 By knowing what others are saying about your brand, you will be able to use customer feedback to improve your products and services and provide better customer service.
Further, you don't have to have your inbox constantly flooded. For each search query you set up an alert for, you can tell Google to email you as it finds a new result, once a day, or even once a week. We recommend at least once a day, so you can promptly respond to customer comments.
Google Alerts is also a great way to monitor what's happening with your clients and competitors, so you always know what is going on in the sales environment.
If you haven't already, setup Google Alerts today and see what others are saying about you, your brand, and the people and things you care most about. For more great tips, please subscribe to our RSS feed or check back regularly. You can also like us on Facebook or follow us on Twitter.