Nowadays, everyone is on Facebook, including businesses. Hence it is important as a business to have a Facebook fan page that accurately represents your business and promotes followers. Think about it, how does a bland/simple fan page make your business look: bland and simple! There are very easy things one can do, most without spending a penny, that will greatly help your fan page increase in followers, stand out from all of those regular, 5-minute made fan pages and appear professional.
1. Use a banner as a profile picture – a banner is a picture that is significantly longer than it is wider. What this does is it makes your profile picture extend down to almost the whole screen size, as shown below. This makes your page stand out right off the bat, and you barely did anything! Here is a great example: Nautic Studios fan page.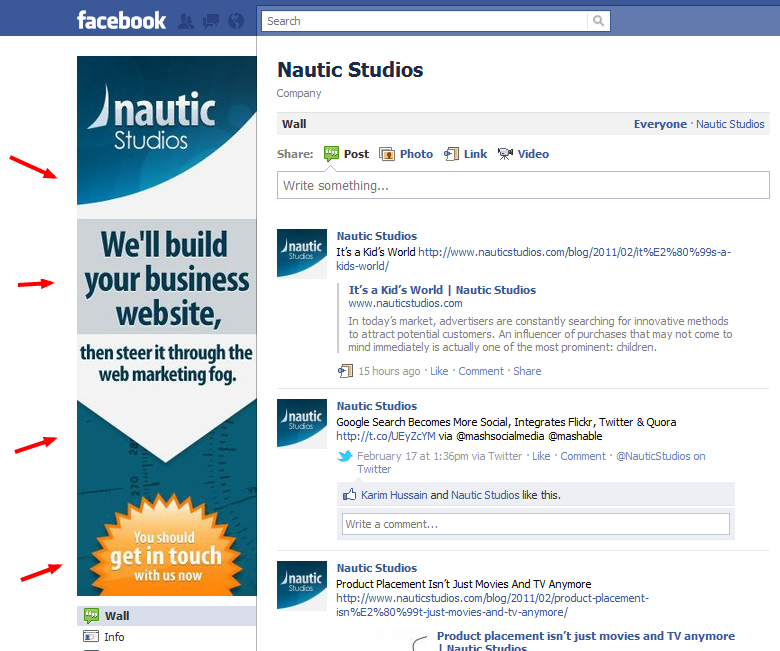 2. Customize Tabs – You can create custom tabs that allow your page to offer more than just a "Wall" for fans to write on. For example, the iTunes fan page has a "polls" tab where fans can vote on songs, movies or artists; as well as a "Video Showcase" tab. Granted the iTunes fan page has custom HTML content which will be my next point. The important thing to keep in mind with custom tabs is that they give your fan page functionality so fans have other incentives to visit and interact with your page. These tabs can also be made the landing page for visitors so it is seen instead of the wall first.
3. HTML Content – Much more professional than just text; adds a lot of credibility to the page. This step is not as simple as the previous two but it allows for many more possibilities with the custom tabs. This HTML content can be simply adjusted from your Web site's HTML content and used in Facebook or designed for a special purpose. TutoringZone has a great Facebook app that allows for students to watch tutoring videos right on their fan page! This step may require the help of web designers if you want something as complex as the TutoringZone video app.
4. Constantly Post & Share Content – By posting and sharing posts with your current fans, your fan page will appear on their wall, which will then be seen by all of those visiting your fans' pages. It is also important to engage fans in discussions so they write on your wall and keep it alive in people's news feeds (as every time someone posts on your fan page wall it will appear on their friends and your fans' news feeds).
5. Network With Other Fan Pages – Build relationships with other fan pages and share content or interesting links with them. Help each other out by suggesting to fans or tagging ( using @ before the page name) on posts.
These are some simple tips that could go a long way towards getting great results from your Facebook fan page. Can you think of anything I might have missed?